www.promageurope.com
Promag LBR700 - MIFARE® Sector Reader Keypad
Configurable MIFARE sector data reader. Can read MIFARE MAD1/MAD2 standard cards
Promag LBR700 is an user configurable MIFARE sector data reader. It can be configured to read MIFARE card with MAD1/MAD2 standard in an open MIFARE application system, or can be configured to read the user-defined sector data (Non-MAD) in a user defined closed system. Output interface can be configured as an RS232 output,or Wiegand output or MSR ABA TK2. LBR700 also can be set with a Reader ID number for multi-unit communication.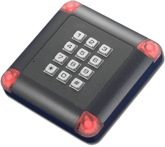 Features:
IP66 protection
Metallic keypad design
Supports MAD1/MAD2 standard and customer MAD-AID setting
Supports Non-MAD format with user-defined sector number.
Supports Multi Sectors
Reads MIFARE 1K or MIFARE 4K cards
Sets Reader ID number for multi-link application
Three output interfaces: Wiegand (Default), RS232, and MSR ABA TK2
Wiegand output is selectable from 26 bits to 128 bits
RS232 output packet can be set with Header, Reader ID and trailer
Internal LED in 3 colors options and buzzer are configurable
Weather resistant

Application:
Access Control System
Time attendance
Guest registration system
Authorization Identification
Identity Authentication


Available versions:
LBR700SK: LBR700 reader + MF700KIT configure kit + PCR310U card issuer + Card issue and utility software + 9VDC power adaptor + MFA01 MIFARE standard 1K card x 3 pcs
LBR700-10: LBR700 reader (without keypad)

Specification is subject to change without notice.

MIFARE is a registered Trademark of NXP B.V.